Penn Cambria to use Software to Battle Bullying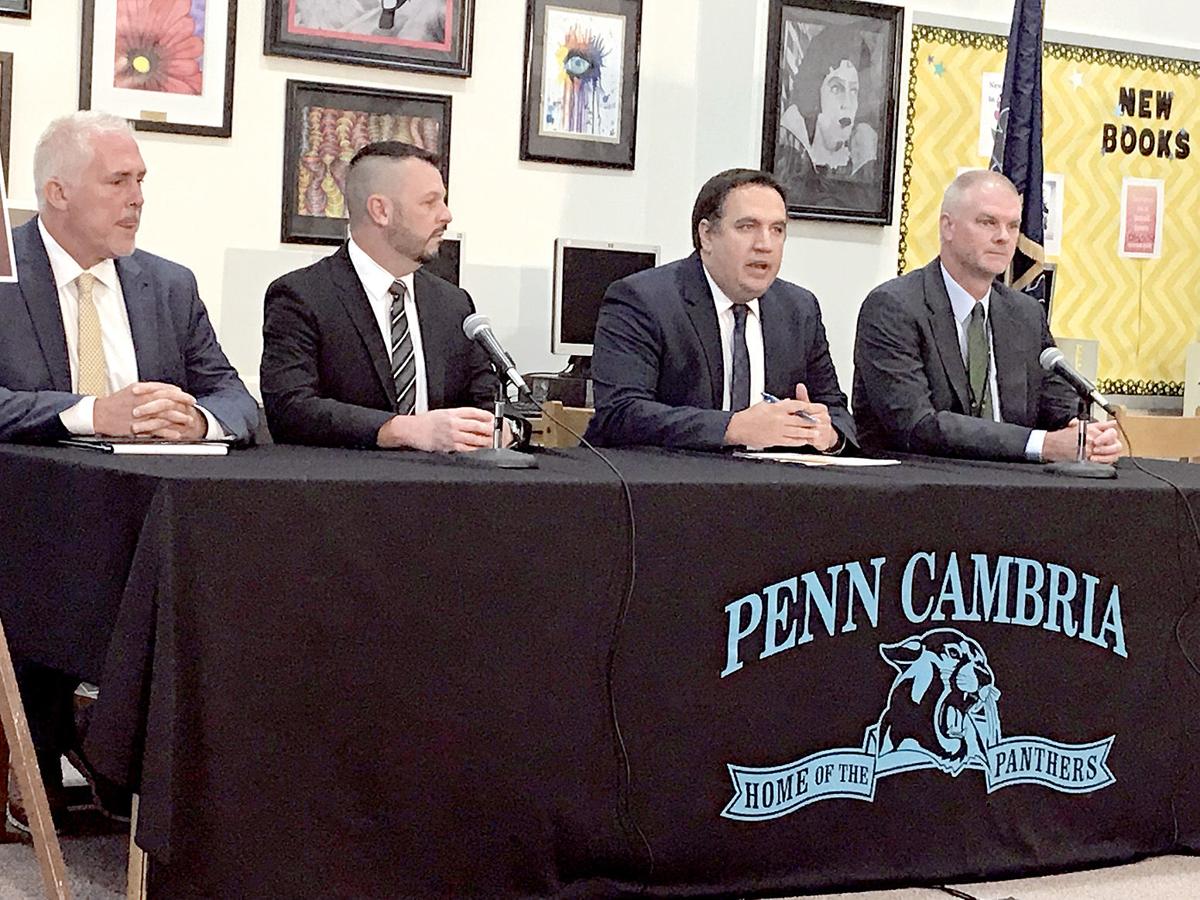 CRESSON – A new program focusing on anti-bullying was unveiled by state Rep. Frank Burns, D-East Taylor Township, during a special conference held at Penn Cambria High School on Monday.
Burns will partner with Penn Cambria School District to pilot the anti-bully program, which utilizes a software supplied by Johnstown-based firm HIBster.
"With thousands of students in Cambria County heading back to school, I knew this was time to redouble my efforts to address bullying," Burns said.
"We know that bullying happens in every school district across the state. Bullying happens in every classroom."
The incident-tracking software is configured to determine what types of bullying incidents are occurring to help administrators handle bullying investigations. The software also prepares reports for parents of bullies, and allows anonymous complaints to be sent to a designated school staff member.
"We're honored to be a part of this pilot program," said Penn Cambria Superintendent William Marshall during Monday's conference. "We want to thank Rep. Frank Burns and his office and HIBster.
"Myself and board, we are continuing to do better for our students. We see this as an opportunity to do that," he said. "As a rural school district, we are always challenged administratively with the daily responsibilities of our principals.
"This is a simple system. A system that's going to allow us to track students that are accused of bullying and track victims in K through 12 – that's going to empower our principals as new students move into the building to be aware of what could be some concerns."
Marshall also noted that the program will help to identify and track places in the district's buildings where supervision can become challenging.
"That will allow us to increase supervision in those areas," Marshall said. "So we look forward to implementing this system."
Burns said his goal for the one-year pilot program with the school district is to take the collected statistics to the Department of Education.
"We would have factual data on why this legislation is needed and what can be done," Burns said. "And once we do have the proof and several people that are willing to vouch for the program and also the software, we will be able to make a strong case to finally do something in Harrisburg about the bullying issue."
HIBster currently has its program in use at dozens of New Jersey schools, as well several Philadelphia and Erie school districts.
Additional features of the program include tracking incidents of bullying between grade levels and the ability to collect data on specific trends of bullying in schools throughout all grade levels.
"With our work in many schools throughout New Jersey and now Pennsylvania, the HIBster software has allowed the schools to take their anti-bullying initiatives to the next level providing a proven software-based program," said Dominic Cannizzaro, CEO of HIBster. "This Pennsylvania legislation will help do the same for other schools.
"The district and its administration should be commended for being a part of this initial pilot phase and for adding this additional tool to their schools."
During Monday's conference, Burns also introduced the Pennsylvania Anti-Bullying Bill of Rights, which is modeled after a similar law in New Jersey. The state representative's bill lays out the rights of students, parents and schools as they relate to bullying and works to build on the Safe2Say anonymous violence and bullying reporting program that was implemented in schools across the state last year.
Burns also reintroduced his proposal to penalize the parents of repeat bullying offenders with a fine of up to $750 and/or community service.
"I felt we needed a uniform plan, and that's what this legislation attempts to do," Burns said. "Being taunted, tortured and terrorized by other students is far more prevalent than most people think. We cannot let another school year go by without addressing this epidemic."
This article appeared in The Tribune Democrat newspaper serving Greater Johnstown